Penelope Ratliff Mollett – The Charley Project
Penelope Ratliff Mollett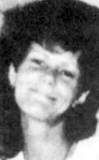 Mollett, circa 1984

Missing Since 04/01/1984
Missing From Orlando, Florida
Classification Missing
Date of Birth 05/09/1952 (67)
Age 31 years old
Height and Weight 5'8, 100 pounds
Distinguishing Characteristics Caucasian female. Brown hair, hazel eyes. Mollett's nickname is Penny.

Details of Disappearance
Mollett was last seen in Orlando, Florida on April 1, 1984. Her vehicle, a metallic blue 1979 BMW 320i with a sunroof and the Florida license plate number IBV589, drove away from her residence in the 4600 block of Fern Drive at 2:00 a.m. She was reportedly dropped off by a friend at the Orlando International Airport, but it's unclear whether she actually boarded any flights. She has never been heard from again.

Mollett was going through a divorce at the time of her disappearance, and there was a history of domestic violence in her relationship with her estranged husband. She left behind a fourteen-year-old son. It's uncharacteristic of Mollett to be away from home for an extended time period. Her case remains unsolved.

NamUs #MP7093 The National Missing and Unidentified Persons System (NamUs)
edited by staff to add media com link
Mollett was last seen in Orlando, Florida on April 1, 1984. she was reportedly dropped off by a friend at the Orlando International Airport, but it's unclear whether she actually boarded any flights. She has never been heard from again. She had...
www.crimewatchers.net
*CLICK THE REPORT BUTTON IF YOU'D LIKE THIS CASE MOVED TO THE GENERAL DISCUSSION AREA TO BE OPENED FOR COMMENTING.
Last edited by a moderator: