Curtis Austin Holmen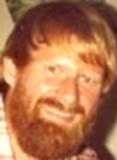 Details of Disappearance
Holmen was last seen in Missoula, Montana on July 22, 1984. That evening he left home to go change his truck's battery, and never returned. He had called his girlfriend and said he would meet her at a movie theater in town the next day, but he never showed up for the meeting and has never been heard from again.

Twelve days later, a berry-picker found his 1976 Toyota pickup truck was found abandoned on an old logging road near Placid Lake. There was a forest map spread out on the front seat and Holmen's eyeglasses and wallet were also there, but his keys were missing. There were no indications of a struggle.

It's unclear why Holmen would have gone to the area, but he had told friends he wanted to scout different lakes for places to hike later on with his brother. When authorities searched the area, which they described as very rugged, they found prints matching Holmen's shoe size; the prints were overlaid with grizzly bear tracks.

They discovered a man resembling Holmen had been seen at a Girl Scout camp twenty miles away. The man appeared disoriented and was rambling about the Vietnam War. The scout leader at the camp asked him to leave. It hasn't been confirmed that he was Holmen, and he had never served in the military. He left behind all his belongings, including $25,000 in his bank account.

Holmen grew up in North Dakota and graduated with honors from Jamestown College with a degree in elementary education. He taught fifth- and sixth-graders in North Dakota and Idaho, and also worked for the National Park Service with his wife.

At one point he stockpiled food and survival gear and went on a one-year hike, traveling as far as Canada and the southwestern United States. He kept in touch with his family on a weekly basis during his trip. After his 1982 divorce, he moved to Montana. The last time Holmen's brother saw him was in the spring of 1984 when Holmen visited him in North Dakota. He seemed distant and aloof during this time.

Based on the evidence, police believe Holmen could have either died by suicide or had a mishap in the wilderness. A female grizzly had been sighted in the vicinity during the search, and it's theorized that Holmen was attacked by a bear.

His brother, however, believes his disappearance could be connected to the case of a local Roman Catholic priest, Father John Kerrigan. The two men went missing within days of each other and from the same local area, and their vehicles were found abandoned approximately forty miles apart. The theory has not been proven and neither case has never been solved.

Holmen worked as a math teacher at Target Range Elementary School in Missoula in 1984. He was declared legally dead years after his disappearance.
Investigating Agency
Missoula Police Department 406-552-6300
Source Information
edited by staff to add media link

Holmen was last seen in Missoula, Montana on July 22, 1984. That evening he left home to go change his truck's battery, and never returned. He had called his girlfriend and said he would meet her at a movie theater in town the next day, but he...
www.crimewatchers.net
*CLICK THE REPORT BUTTON IF YOU'D LIKE THIS CASE MOVED TO THE GENERAL DISCUSSION AREA TO BE OPENED FOR COMMENTING.
Last edited by a moderator: