Charles Conner

Charles Conner – The Charley Project
Namus The National Missing and Unidentified Persons System (NamUs)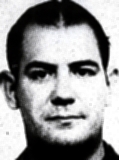 Conner was last seen in Lima, Ohio on August 10, 1957. He was celebrating his birthday, drinking in Ralph Forsythe's home in the 200 block of east McKibben Street. Conner, Forsythe and three other men were sitting in Forsythe's kitchen when Forsythe accused Conner of stealing a gun and then shot him in the head.

Their companions fled the scene in panic. One of the witnesses went into a local bar and told the bartender what he had seen. The police were at first skeptical of the story, as the other two men didn't come forward to corroborate it until the next day.

When authorities went to Forsythe's home, there was no sign of him, his wife or Conner. There was blood in the kitchen and a bullet hole in the wall.

Forsythe was arrested for murder about 24 hours after the shooting. He was convicted of manslaughter in December 1957, after a three-week trial. A critical witness was the caretaker of a park in Cadiz, 200 miles east of Lima, who saw Forsythe and his wife washing out Forsythe's Ford Courier.

The couple left bloodstained rags, clothing and newspapers behind. When the Ford Courier was eventually located, water and human blood was inside it.

Forsythe admitted he had pointed a gun at Conner, but said he was only joking and it was loaded with blanks. In 1967, his conviction was overturned on procedural grounds. The state opted not to re-try him and he was released from custody; many of the witnesses had died and evidence had been lost in the intervening years.

Forsythe died in 1983, without ever disclosing the whereabouts of Conner's body.

It's possible that a body found in Bedford, Pennsylvania in November 1958 is Charles Conner. The dead man was nicknamed "Mr. Bones" and had been shot in the head.

Bedford is 365 miles from Lima. "Mr. Bones" is about Conner's size and age, and a forensic sketch of what he would have looked like in life resembles Conner's photograph. The sketch is posted with this case summary.

There are no dental records from Conner, but police have obtained a DNA sample from a relative and sent it in for testing. He was a factory foreman at the time of his disappearance, and had gotten divorced just two weeks previously. His ex-wife died in a fire in 1960, his father died 1966 and his mother in 1974.


edited by staff to media link

Conner was last seen in Lima, Ohio on August 10, 1957. He was celebrating his birthday, drinking in Ralph Forsythe's home in the 200 block of east McKibben Street. Forsythe accused Conner of stealing a gun and then shot him in the head. Conner's...
www.crimewatchers.net
-
Click the Report button if you'd like this case moved to the general discussion area to be opened for commenting.
Last edited: