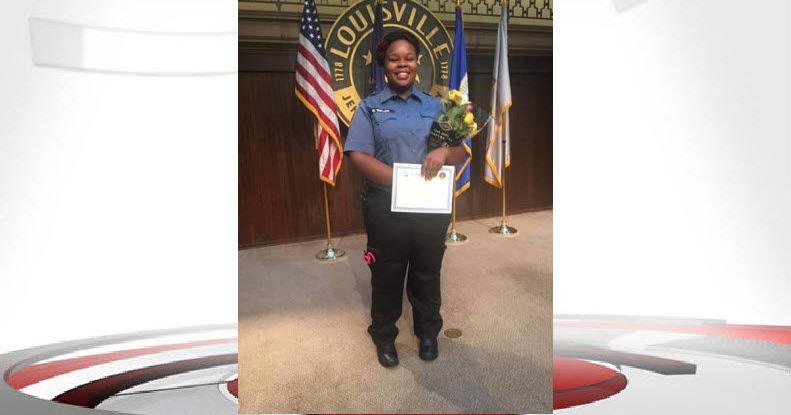 "Had Breonna Taylor been killed by anyone except police, the person or persons responsible for her death would have been charged with a homicide," defense attorney Rob Eggert said in
www.wdrb.com
Attorneys claim LMPD officers killed 26-year-old EMT in 'botched' police raid
But an attorney for Kenneth Walker claims police conducted an improper raid, which led to officers shooting an innocent woman eight times, killing her. The woman, 26-year-old Breonna Taylor, was a certified EMT working at two local hospitals.
Defense attorney Rob Eggert said
police burst in Taylor's home without announcing their presence and fired at least 22 times
, with bullets going into neighboring apartments, and "it was incredible that Mrs. Taylor was the only one killed."
"Had Breonna Taylor been killed by anyone except police, the person or persons responsible for her death would have been charged with a homicide," Eggert said in a court document, also alleging Walker is a "victim of police misconduct."
Taylor's family says neither Walker nor Taylor was involved in drugs and believe police were looking for someone else.
"These are two good kids," said Bianca Austin, Taylor's aunt. "This is incompetent police work. My niece lost her life over this."
Austin said LMPD has not given the family any answers as to what happened.
An attorney representing the family, Sam Aguiar, said police were actually looking for someone else and other officers had picked the suspect up at his home in a separate raid shortly before the shooting.
Breonna Taylor, a 26-year-old Emergency Medical Technician (EMT), was shot and killed by Louisville Metro Police officers on March 13 during a raid on the home of her boyfriend, Kenneth Walker.
heavy.com
Breonna Taylor: Louisville EMT Killed in Botched Police Raid, Lawyer Says
Breonna Taylor was a 26-year-old emergency medical technician (EMT) who was shot and killed by Louisville Metro
Police
on March 13 during a late-night
raid on her home
where her boyfriend, Kenneth Walker, was also sleeping.
Walker, who was arrested and charged with attempted homicide on accusations he shot one of the police officers during the raid, is being defended by attorney Rob Eggert. Eggert
told local news station WDBR
that Walker was acting in self-defense and said Taylor's death was the result of "police misconduct."
Walker has
pleaded not guilty
to the charges.
1. Taylor, Who Also Worked for Two Hospitals, Wrote That She Loved Helping Others
On her
Facebook page
, Taylor described her love for helping others. "Working in health care is so rewarding! It makes me so happy when I know I've made a difference in someone else's life!" she said.
2. Taylor Was Shot Shortly After She Was Awakened by the Raid
According to reports from the
local WDRB TV station
, officers from the
Louisville Metro Police Department's Criminal Interdiction Division
used a
battering ram
to break down the door and rushed into the house on Springfield Drive at 1 a.m., waking Taylor and her boyfriend, Walker. Walker shot at the officers, wounding one, and the three who entered fired some 22 shots back,
according to Eggert
, Walker's defense attorney; Taylor was shot eight times and died.
According to Walker's lawyer
, Walker shot back in self-defense because he said police did not announce themselves. His lawyer wrote to the court that Walker "wishes to exonerate himself. His girlfriend was killed in a hail of police bullets while naked and he himself simply acted to try to protect himself."
3. Walker Is Accused of Attempted Murder
Walker, 27, was
arrested and charged with attempted murder and assault
after police say he shot Sgt. John Mattingly; Mattingly survived and underwent surgery for his injuries.
Walker pleaded not guilty, and his lawyer argued that he acted in self-defense because he didn't know who was at the door.
"Had Mr. Walker known that police were outside he would have opened the door and ushered them in," Eggert
told the Courier Journal
, adding that no drugs were found, the home belonged to Taylor and Walker wasn't even the target of the police's search warrant.
Sam Aguiar, a lawyer for Taylor's family,
told WDRB
that it was a case of misidentification and that he believed officers were looking for someone else connected to a different raid.
4. Taylor's Death Sparked Sadness and Outrage
Taylor's sister, Tracy Chapman, has posted messages seeking #JusticeforBree often, and Taylor was recently featured on a Facebook page "The Misidentified 4 – Louisville."
5. Police Say the Matter Is Being Investigated
In
an email to WDRB
, LMPD Chief Steve Conrad declined to discuss the "incident that resulted in Ms. Taylor's death" due to the pending Public Integrity investigation. However, he did note that no camera footage was available for the incident, because Criminal Interdiction Division officers do not wear them.
Mattingly, Det. Myles Cosgrove and Det. Brent Hankison have all been placed on administrative leave. One of them, Cosgrove,
was sued for excessive force
by a man he shot in 2006 at a Speedway gas station; Cosgrove won the suit.
At a
press conference
held 15 hours after the shooting, Conrad said, "We are extremely fortunate that our officer John Mattingly was not more seriously injured. We have no body-worn video cameras to share with you … even without the videos, our Public Integrity Unit will conduct a complete review of this case."
https://www.facebook.com/dialog/sha...om/news/2020/05/breonna-taylor/&display=popup